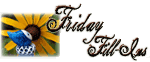 You know you're old when
it takes four days of napping to recover after getting together with old friends
.
My heart is divided between
writing to live
and
living to write
.
A few days of no rain and a mowing team
is what I need RIGHT NOW!
I have felt the
power
of living my dreams
, I have known the depths of
satisfaction that come from determining my own place in this world
.
Gah, won't these people
ever learn that life IS what you make it
.
Have a piece of chocolate
as soon as you can!
And as for the weekend, tonight I'm looking forward to
maybe playing some poker with the family
, tomorrow my plans include
festivities at the Farmer's Market (and maybe mowing)
and Sunday, I want to
just go with the flow
!